Development of polyphonic skills and part-singing based on the
Kodály - Ádám
Énekes könyv (Singing Books) series
Book 3 (age 8-9)
"In grades I and II students were occupied with dialogue songs, echo songs (two groups, two tone colours), simple two-part rhythm exercises, and antiphonal melodies written in the board. There is a wealth of material for dialogue and antiphonal melodies suitable for third grade. (...) Children find great enjoyment singing them, and it is through frequent participation in such activities that life and fresh air flows into the music class."
(Jenő Ádám: Growing in Music with Movable Do, New York: Pannonius Central Service, 1971, p. 130.)
Summary of musical concepts learnt through the folksong repertory Kodály-Ádám Singing Books, Book 3.
Rhythmic elements, metre:
minim, minim rest
4/4 metre
Melodic elements and scales:
from "d" pentatony to the major scale
from "l" pentatony to the "l" hexachord
Performance of rhythm progressions with changing of the timbre
Example 1

Activities:
box 1: singing
box 2: clapping
box 3: finger dancing
box 4: silence
Rhythm dialogue
Example 2-4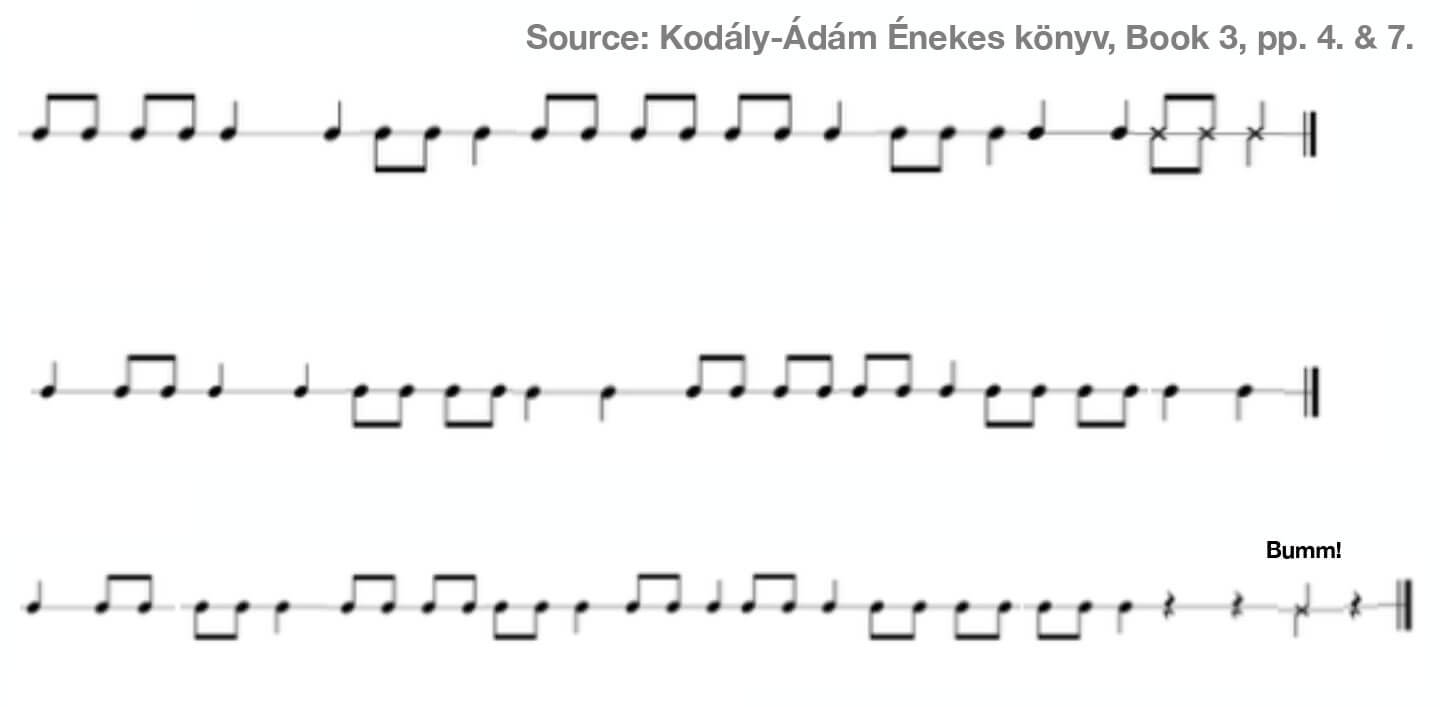 Teaching tips:

notes with stems pointing upwards: clapping
notes with stems pointing downwards: knocking
Example 5

Example 6

Example 7

Teaching tips:

In addition to these rhythm exercises it is suggested that pupils clap the rhythm progression of two different song simultaneously in order to create tow-part rhythmic progressions
Example 8-9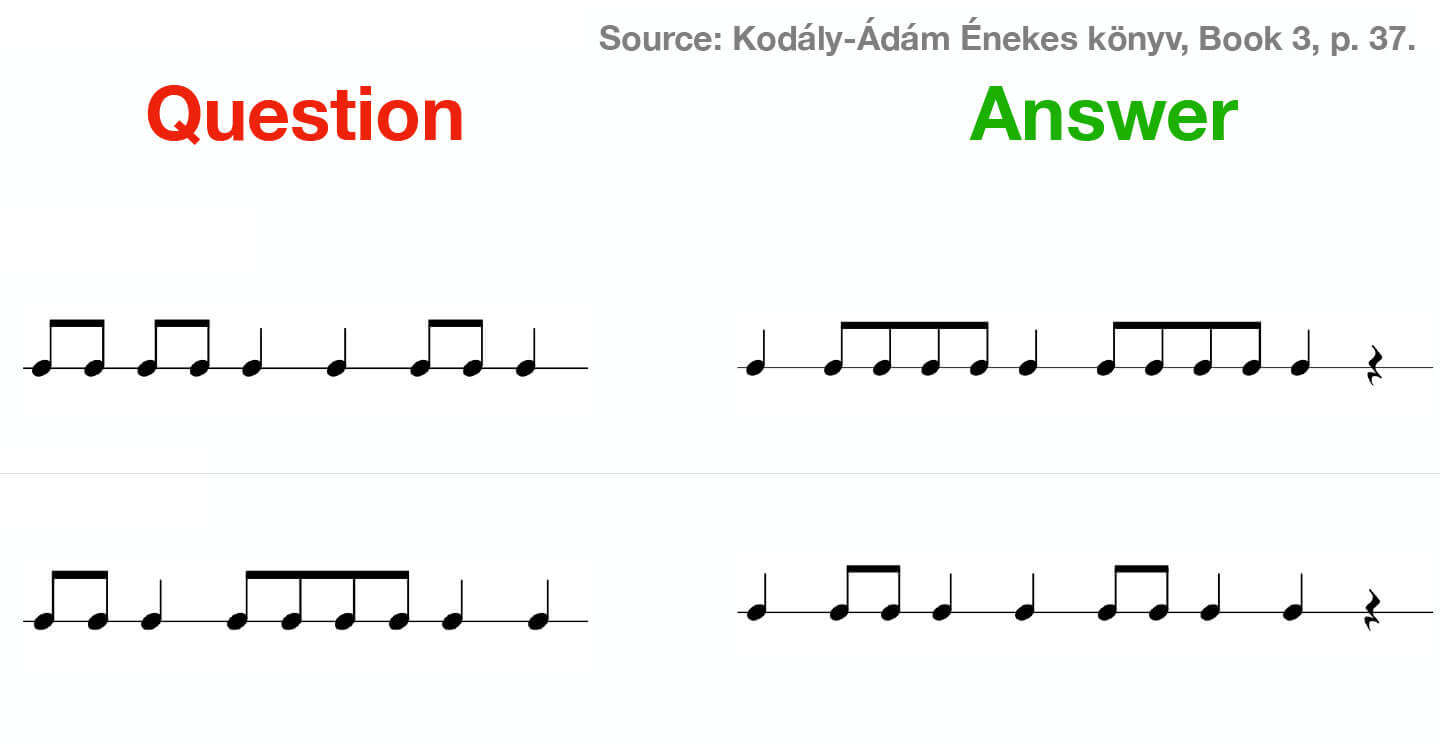 Teaching tips:

Improvise similar rhythmic dialogues

Two-part "knocking" and other rhythm exercises
Example 10-12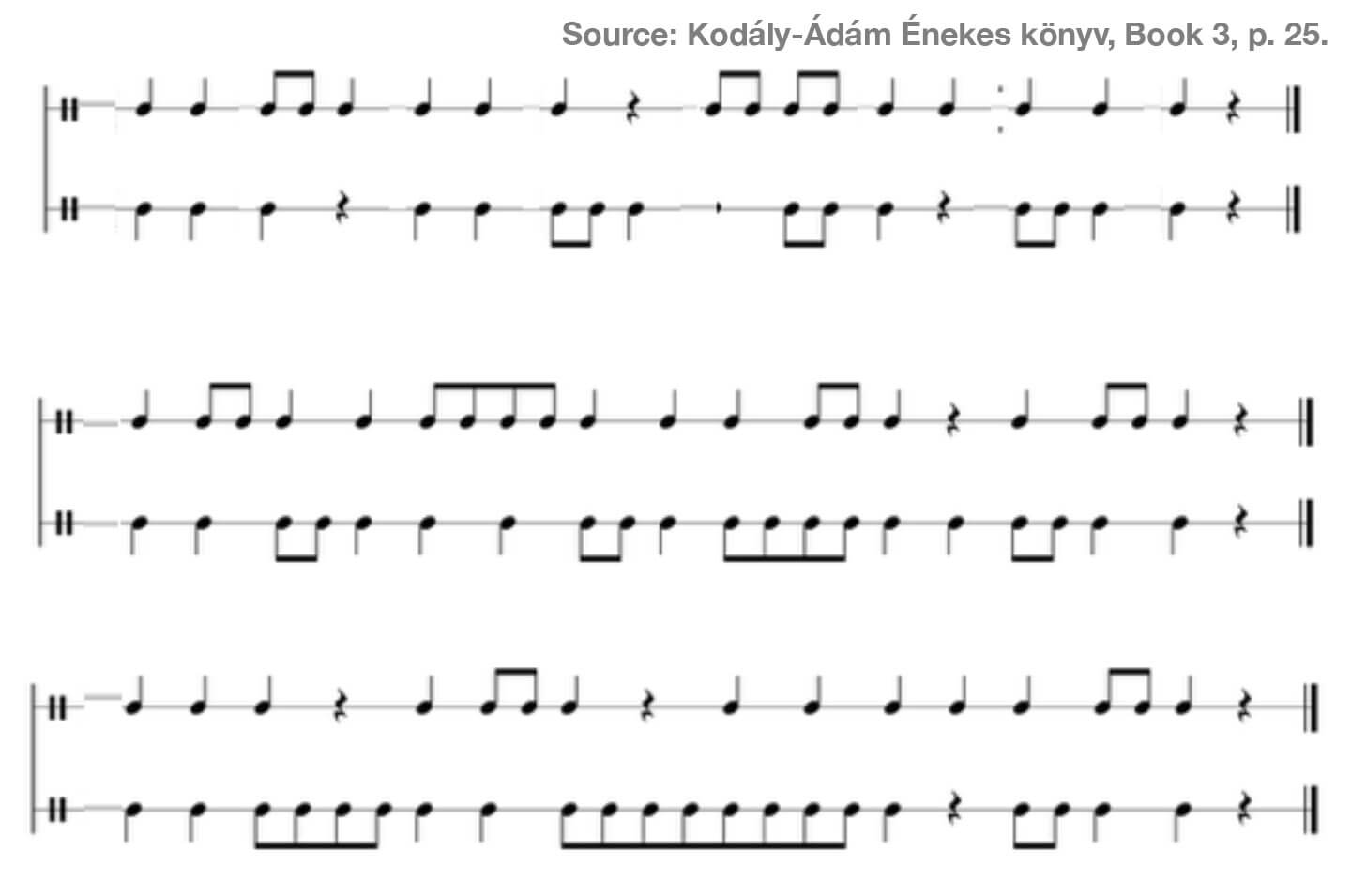 Rhythm exercises for practising simple rhythmic progressions in 2/4 time
Example 13-14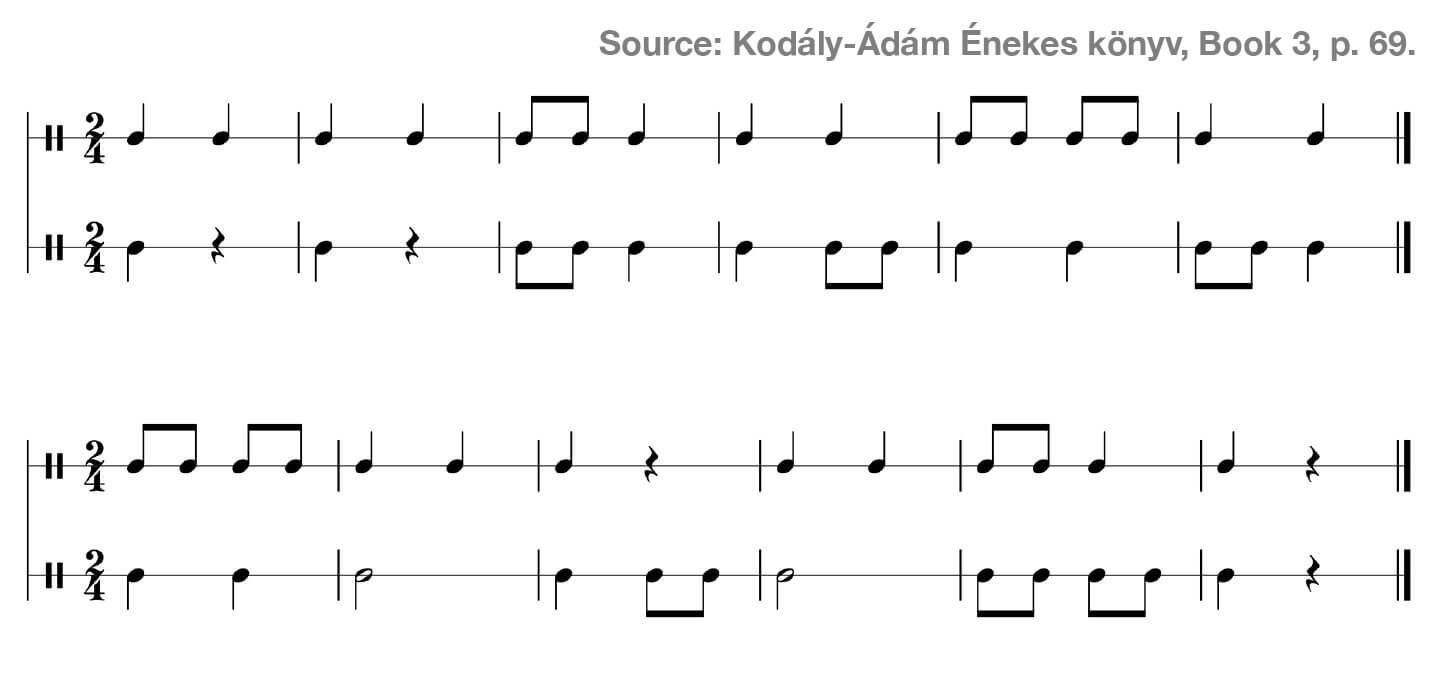 Rhythm exercises for practising 4/4 time, minim and minim rest
Example 15-17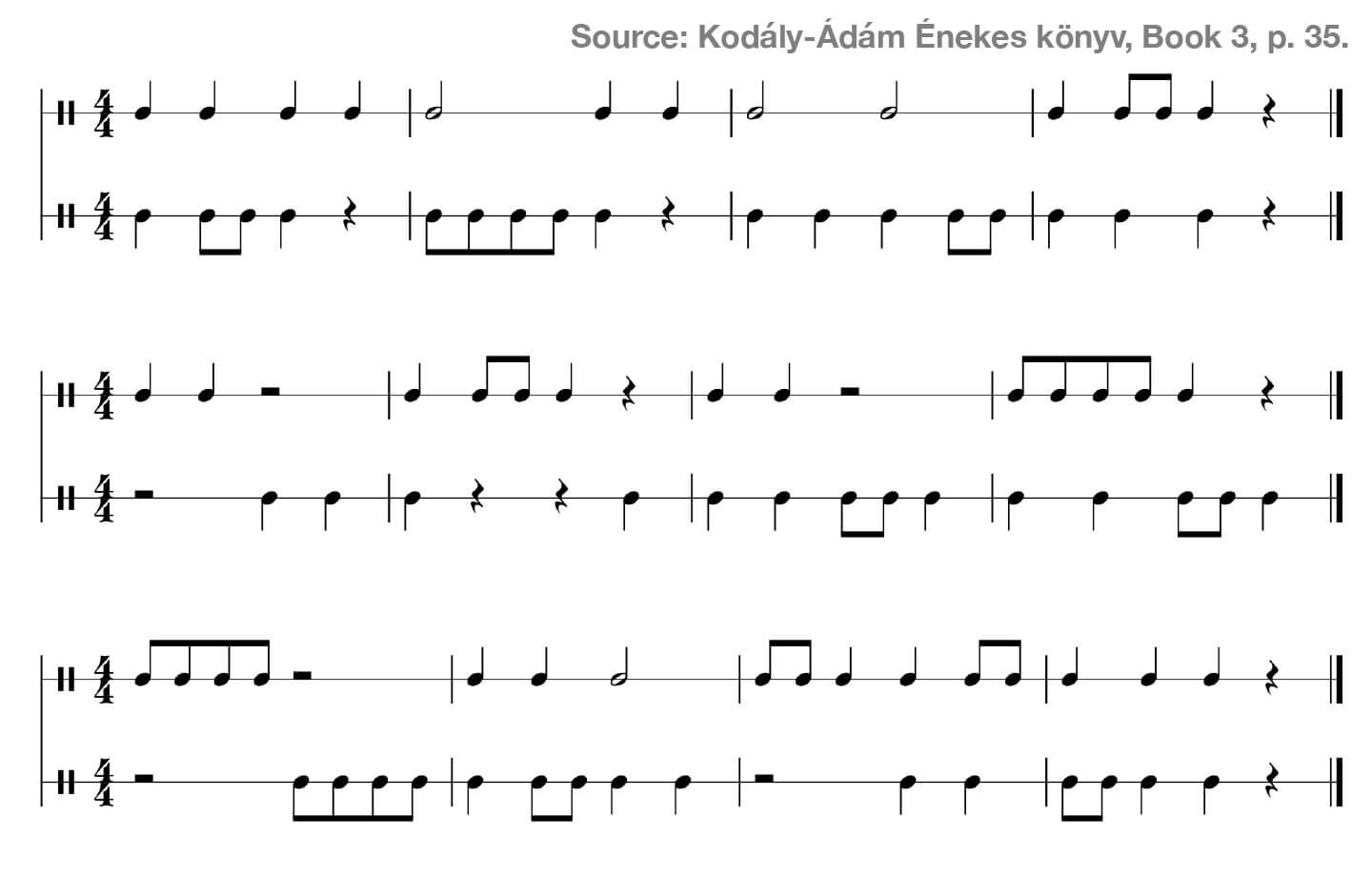 Example 18 

Activities:

In the blank measures imagine the sound of rhythm patterns from former two-part exercises
Melodic dialogue
"The objective is to lead students not only toward singing polyphony, but to develop also a precise and secure intonation in two parts. To sing one part with clarity is a difficult task, while in two-part singing the parts support and adjust one another. [...] Instruments are of no help. On the contrary, an instrument will become a constant crutch which later may become indispensable. It is also harmful, because in tempered tuning our instruments do not possess a single natural interval beyond octaves, to say nothing of the fact that a well-tuned instrument is a rarity in schools." (Kodály's words as taken from Jenő Ádám: Growing in Music with Movable Do, p. 130.) 
Example 19 

Teaching tips:

These fragmented melodies have to be sung in a slow tempo, students should respond with utmost attention paid to the dynamic changes.
Example 20 

 Example 21-23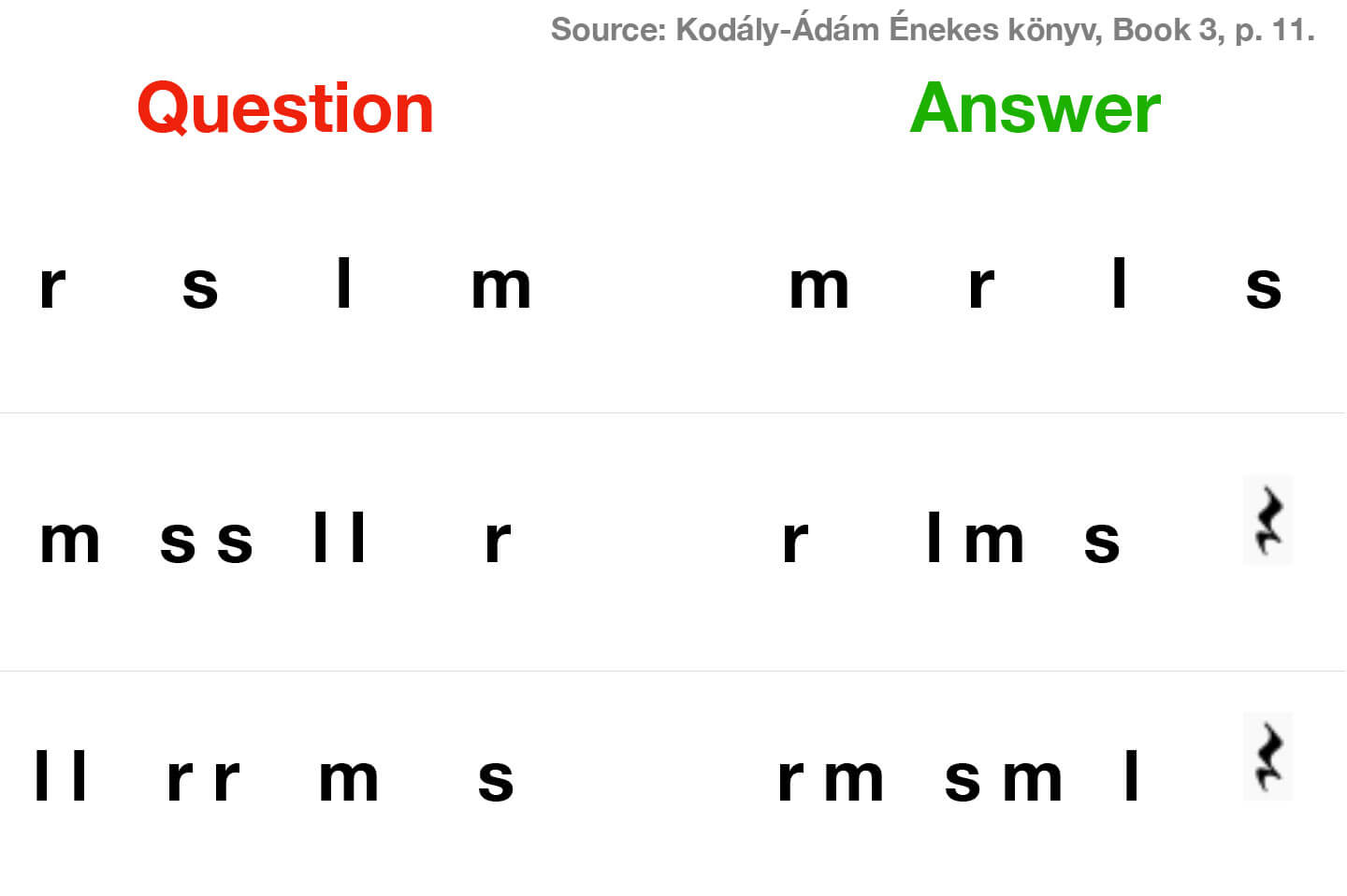 Example 24

Example 25

Example 26

Example 27

Teaching tips:

In this exercise pupils repeat very softly what the teacher has sung.
Later similar motives can be performed by two groups or just by two children
Two-part singing with pedal note
"Imitative two-part singing is now extended to a form of harmonising whereby one part sustains one note while the other part slowly sings a few notes. Such exercises may also be directed with hand signals." (Jenő Ádám: Growing in Music with Movable Do, p. 133.)
Example 28-30

Example 31-33

Example 34-36

Example 37-39

Example 40-41