Back to the Calendar
Muziek als Vak Masterclass weekend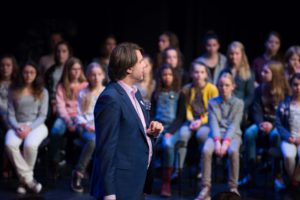 | | |
| --- | --- |
| | Friday, Nov 15, 2019 15:00 – Sunday, Nov 17, 2019 17:00 |
| | Koninklijk Conservatorium Den Haag |
| | Netherlands |
| | Masterclass |
The upcoming edition of the Muziek als Vak Masterclass Weekend will take place on 16 and 17 November 2019!
Just like last November we offer two different programmes:
Colourstrings
Already on Friday 15, Géza and Csaba Szilvay will kick off the Colourstrings Weekend. This three-day course, taught by the founders of this method, offers a great introduction to Kodály based string pedagogy, as well as a more advanced level. The course is aimed at string teachers. On the official Colourstrings website you can find out more about this famous Hungarian methodology.
Kodály - Muziek als Vak Masterclass Weekend
On Saturday 16 and Sunday 17, the Muziek als Vak Masterclass Weekend offers you a programme which focusses on classroom teaching, musicianship, choral conducting, etc. Our own faculty members are joined by Hungarian guest teachers László Nemes and Árpád Tóth. They offer classes at different levels, which makes the weekend accessible to both people with and without experience with the Kodály methodology.
For more information, the complete programme and tickets, please, visit: www.muziekalsvak.nl