The Kodály Institute of the Liszt Academy of Music has launched a thoroughly revised and restructured English-language edition of Pál Kardos's unique book on choral intonation. Available under the title Pál Kardos: Intonation and Vocal Training in Choir through the Bookshop of the Kodály Institute.
What makes this volume unique? The book's distinction lies in its presentation of the often daunting subject of choral tuning and intonation in a precise and accessible way. It outlines the topic's theoretical background and immediately ties the theory to carefully chosen and tailored musical examples, so that each tuning issue or challenge can readily be seen and understood. The musical examples are either drawn from existing musical pieces or from Kodály's Let Us Sing Correctly, or specially created by Kardos himself. "This book will be of immense benefit for choral conductors who want to build their knowledge of tuning along with a clear understanding of its practical implications in choral singing" – said Dr Róisín Blunnie, Dublin-based choral conductor and university lecturer, who revised the translation.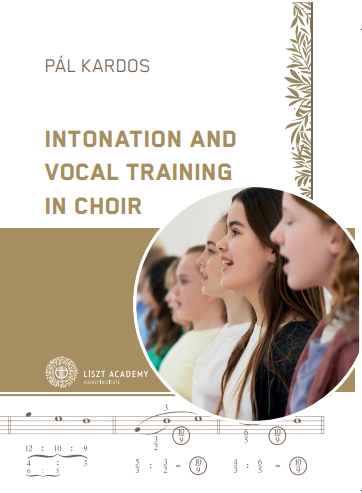 The author Prof Pál Kardos was one of the outstanding representatives of Hungarian choral art and a leading expert of choral acoustics, intonation, and vocal training. An exceptional student of Jenő Ádám, Lajos Bárdos, Zoltán Kodály, Erzsébet Szőnyi, Bence Szabolcsi and Zoltán Vásárhelyi at the renowned Liszt Academy of Music, Pál Kardos played a pivotal role in the development of choral life and education in Hungary. "We can feel this real sense of personal musical experience throughout the book, and Kardos helps us to understand what tuning is about – its fluency, purity, and beauty. He gives expert guidance on how to identify the issues at play when a choir sounds out of tune, and provides useful solutions to intonation problems. He also emphasises the need for enjoyment in choral practice" – added Dr Blunnie.
Ádám Czinege, faculty member of the Kodály Institute of the Liszt Academy and composer, conductor and linguist, has undertaken the restructuring and revision of the original edition. As he writes in the Foreword of the book: "These facts [overlappings, similarities] led me to the idea that, perhaps, the best way to give a new form to Prof Kardos's thoughts and, at the same time, to be faithful to his writings as the source of this work may be to redistribute the original material of the three studies into a sort of 'textbook' with two chapters: one on the theory, and the other one on the practice of intonation in singing."